We build Listening Centers where rural African women and girls easily gather.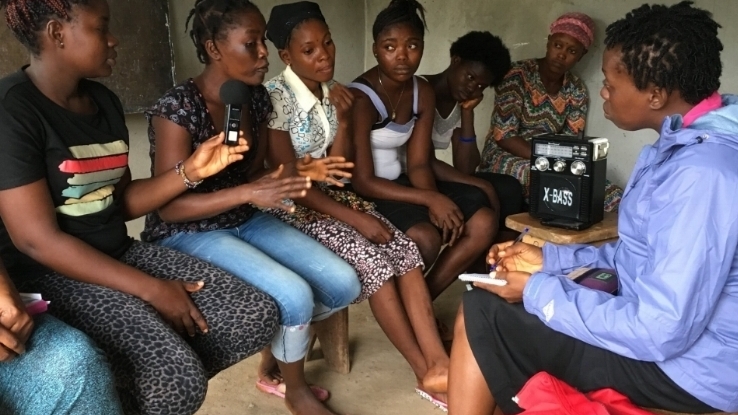 Our journalists produce and share empowering podcasts they produce on topics of importance to rural women and girls.
Our listeners are encouraged to transfer our podcasts onto their mobile phones so they may listen again later and share.
Our podcasts address topics relevant to women and girls living in rural Africa and are offered in multiple languages.
Julienne Lusenge, our partner in the Democratic Republic of Congo, received the 2018 International Women's Rights Award
The Challenge
What if Africa's most rural communities, those located beyond paved roads and electricity, could be invited into the global conversation?
We work in some of the toughest-to-reach communities on the planet: rural villages in Sierra Leone and the Democratic Republic of Congo.
By harnessing free file-sharing on mobile phones, our innovative media replicates what already happens in Africa's music-sharing culture — but instead of music, we deliver crucial information to women and girls.
Our Vision
Our vision is to build innovative, nationwide information networks where rural women and girls can hear timely messages, learn from each other, and become part of a movement that begins in their village and extends across their country.
Where we work
We work with local partners in the Democratic Republic of Congo and Sierra Leone. We are ready to roll out our innovative concept throughout the Great Lakes Region of East Africa and the Mano River Region of West Africa.